Don't Go It Alone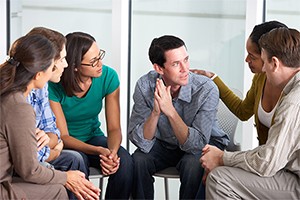 It can be easy to forget mental health needs the same attention as physical health. Struggles with emotional and psychological issues are fairly common: One in five adults experiences a mental health condition each year. If you or a loved one are among them, there are resources available to support you in maintaining your well-being. 
It's okay if you don't have it all figured out.
---
"I'm Fine"
Saying it a lot?
If you find yourself telling people you're fine but know you're not, consider being honest. Confiding in a loved one or colleague can help you begin to work through mental and emotional challenges.
Hearing it a lot?
If a loved one or colleague is telling you they're fine but you have reason to believe otherwise, say something. Encourage colleagues and family members to use the resources on this page. Your outreach could be what inspires them to seek treatment.
---