Don't Go It Alone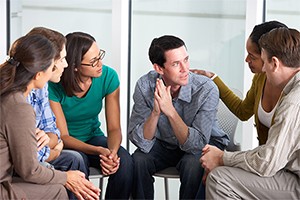 It can be easy to forget mental health needs the same attention as physical health. Struggles with emotional and psychological issues are fairly common: One in five adults experiences a mental health condition each year. If you or a loved one are among them, there are resources available to support you in maintaining your well-being. 
It's okay if you don't have it all figured out.
---
"I'm Fine"
Saying it a lot?
If you find yourself telling people you're fine but know you're not, consider being honest. Confiding in a loved one or colleague can help you begin to work through mental and emotional challenges.
Hearing it a lot?
If a loved one or colleague is telling you they're fine but you have reason to believe otherwise, say something. Encourage colleagues and family members to use the resources on this page. Your outreach could be what inspires them to seek treatment.
---
Where to Start
The Employee Assistance Program (EAP)
When you're struggling with life's challenges, get help identifying the type of support you need by calling the Employee Assistance Program 1-844-636-1260 (TTY: 711)
The EAP is free, confidential, available 24/7, and provides the opportunity to talk with a licensed Master's or Ph.D.-level mental health and/or substance abuse professional (up to three sessions per issue). He or she can direct you to other resources as needed, including referrals to a counselor or doctor for treatment. The EAP is free for all benefits eligible faculty and staff, and members of their household. 
Go to the Employee Assistance Program
For over 100 years, Columbia Psychiatry has offered world-renowned mental health services in the New York metro area. These services are in-network for those enrolled in University medical plans to provide access to top-of-the-line mental health care to the Columbia community. Columbia Psychiatry providers combine knowledge of the latest research with years of clinical experience to guide adults, children and adolescents through the journey of improving their thoughts, feelings and behavior. From general psychotherapy services to the most complex and treatment-resistant cases, the team of more than 100 psychiatrists, psychologists and licensed clinical social workers work hard to provide compassionate, individualized care to meet the needs of each person. 
Offices in Manhattan: W. 51 Street, Columbus Circle, W. 168 Street.
Office in Westchester County, N.Y.: 155 White Plains Road, Tarrytown
Key programs include:
Group therapy - University medical plans include coverage for the Columbia Day Program, a group program designed for people suffering from a variety of conditions, including anxiety, depression, eating disorders and substance abuse. To make an appointment or learn more, go to columbiadoctors.org/dayprogram or call 212-326-8441.  
Columbia Anxiety Day Program Westchester -  The CUCARD Westchester Anxiety Day Program provides daily, comprehensive treatment for adolescents whose lives are severely impaired by anxiety or OCD. Our evidence-based approach is designed to help teenagers better manage anxiety so they can return to school and get back to their daily lives as quickly as possible. To make an appointment or learn more, go to columbiadoctors.org/childrens-health/anxietydayprogram or call 914-631-4618.  
B.U.D.S Program - B.U.D.S is a 4-week summer treatment program run by the Program for ADHD & Disruptive Behavior at Columbia University Irving Medical Center. This program is designed for children ages 6-9 who need help following teacher direction, listening to instruction, controlling impulsivity and energy level, regulating their emotion, improving social skills and paying attention to tasks. To make an appointment or learn more, go to columbiadoctors.org/childrens-health/buds-program or call 212-305-6001.  
To learn more about services offered, go to columbiadoctors.org/psychiatry.
To request an appointment, please fill out the online form or call 212-305-6001.
Employee Assistance
The Employee Assistance Program (EAP) is a network of free or discounted services to support your personal success and help with everyday challenges.
Virtual Counseling
Struggling to get to your therapist's office? For non-emergency concerns, meet with a therapist online. The cost is the same as a physician's office visit if you're enrolled in a University medical plan. You can locate providers through Live and Work Well. Search for provides and schedule appointments online. Go to Virtual Visits to learn more.
Talkspace Online Therapy
With Talkspace online therapy, you can regularly communicate with a therapist, safely and securely from your phone or desktop. No office visit required. Talkspace is convenient, safe and secure. Simply register (first visit only) and choose a provider and message anywhere, anytime. Eligible UnitedHealthcare members can visit talkspace.com/connect to get started.
Office of Work/Life
Check out the Office of Work/Life for resources to help boost your mental and emotional well-being including:
Go to the Office of Work/Life's Mental & Emotional Well-Being page for additional programs and events. 
If you think your team could benefit from a yoga or meditation session--or other well-being program or presentation--speak with your manager,  then fill out this: Wellness Presentation Request Form.
National Mental Health Resources 
A community-based non-profit dedicated to addressing the needs of those living with mental illness and to promoting the overall mental health of all Americans.
Use the online screening tools for a quick look at your mental health.
National Suicide Prevention Lifeline: 800-273-8255.