Travel with Help from Your Columbia Benefits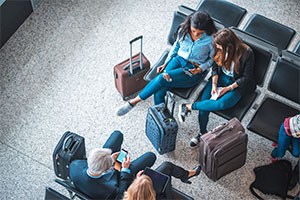 This month we're talking about ways your benefits can help you plan for vacations, stay-cations and business trips so you can leave your worries behind. Your benefits can take some of the stress out of travel. Check out the coverage and discounts that can support you while you plan your next trip, and when you get there.
Did You Know? U.S. citizens made 41,773,808 international trips in 2018, according to the U.S. Department of Commerce, International Trade Administration, National Travel and Tourism Office (NTTO)
Travel Assistance
Ways your Columbia benefits can help you plan:
Save Money
Go to the Discounts and Perks page; select "Shopping and Entertainment Discounts" from the drop-down menu for savings on hotels, shows, rental cars and more.  
The Employee Assistance Program (EAP) gives you access to a variety of discounts through SpendLess. Surf the website for opportunities to save on local and destination adventures, including hotels and how to find cheap gas prices.
Register to Spend Less:
Go to Humana's website (Username "Columbia"; password "eap").
Click the "What's On Your Mind" tab
Select "Daily Living" from the drop-down menu
Click the "Discount Center" link in the right-hand column
 
Prepare for Travel
Cigna Secure Travel is available to all employees enrolled in Cigna Life Insurance. Use the checklist to see immunization, visa and passport requirements. Review the resources for helpful embassy referrals, travel advisories and cultural information.

The EAP offers information to help you plan and pack for your trip.

If your travel requires vaccinations, your Columbia medical plan will cover them (your deductible and coinsurance will apply)—contact UHC with questions.

To find out your current coverage elections for benefits such as life insurance, visit CUBES.
Your Columbia benefits can offer support during travel, in case you need it:
Coverage for emergency medical services. All faculty and staff enrolled in a Columbia-provided medical plan are covered for emergency services while traveling outside of the US—contact UHC for details.
 
Travel and emergency assistance services. Cigna Secure Travel (available to those enrolled in Cigna Life Insurance) also provides interpretation and translation referrals, physician, medical center, dentist and legal services provider referrals, assistance with lost/stolen luggage, prescription replacement and more. Learn more.
If you're traveling internationally on Columbia business, check out Columbia's Global Travel website before you depart for information regarding travel alerts, logistics, and other resources  for international travelers, including the many services available when traveling for University-related business. Additionally, Officers of Administration and support staff must complete certain requirements before departure, such as registering their Columbia-related travel (also highly recommended for faculty and researchers).
If you have questions, email [email protected].
Resources:
Go to the University's Finance Gateway Global Support International Travel Guide and the CUIT International Mobile Services page for mobile device plans.