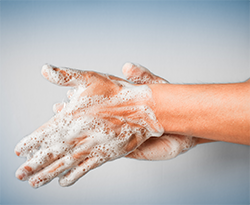 Last Update: 8/5/2020, 2:31 p.m.
Providing a safe and healthy workplace is always a top priority for Columbia University, and is especially critical during this time. The University is planning for a return to campus responsibly and monitoring the changing COVID-19 (Coronavirus) situation in New York City and globally. University leadership, with guidance from medical and public health experts, have been meeting daily to provide guidance and develop adaptive policies to support the well-being of the Columbia community. In this unusual time, our community values of respect and consideration for each other are especially important.
Information may be modified as circumstances change. 
Frequently Asked Questions
(8/5/2020) Columbia is instituting critical public health measures, including face covering and mask wearing, physical distancing, hand hygiene, daily symptom checking and reporting, and enhancements to facilities such as maximizing fresh air, air filter replacement, and supplementary cleaning. 
(7/22/2020) In response to the economic toll the COVID-19 pandemic has taken, Columbia University is offering certain employees the option to take a full or partial unpaid furlough.
Voluntary Furlough Application     |     Voluntary Furlough Policy
(7/2/2020) As the ramp-up continues, an important requirement for everyone working on campus is to complete online COVID-19 safety training, before returning to their workplace.
(6/12/2020) We are pleased to announce that President Bollinger has set a target date for beginning the ramping up of laboratory and clinical research on campus: Monday, June 22.
(6/8/2020) Remote work arrangements for Columbia will remain in place. Unless you have been identified by your department as required to be on site, you should be working from home, and you should continue to do so.
(5/12/2020) There are many different coronavirus tests out there. They fall into two main groups – diagnostic tests and antibody tests. This information is intended to help you understand these tests and determine whether either may be right for you.
(4/23/2020) Watch this webinar recording hosted by Humana for tips on social distancing, rethinking routines, ways to stay connected virtually, addressing food insecurity, and finding community resources.
(4/16/2020) Interim Provost Ira Katznelson and Executive Vice President for Finance and Information Technology Anne Sullivan reflect on what lies ahead for the University.
(4/12/2020) Join the virtual University Life Forum: Your Questions Answered on COVID-19 on Monday, April 13 at 12:15 PM on Zoom.
(4/1/2020) The HR, Payroll and CUIT teams have been working on upgrading the current People @ Columbia (PAC) system. The upgrade will be implemented at the beginning of April and the updated system will be available on Monday, April 6, 2020.
(3/26/2020) We have all made a great number of adjustments to our daily lives over the last several weeks. The following outlines two new temporary policies related to pay continuity and paid emergency absences. 
(3/25/2020) Watch a discussion about COVID-19 with leading experts from Columbia University. 
(3/24/2020) Dr. Stephen Morse discusses approaches to control the spread of COVID-19 and contain the virus.
(3/24/2020) Famed "virus hunter" Dr. W. Ian Lipkin answers your questions about what a virus is, where did COVID-19 come from, and what's on the horizon for potential treatments.
(3/24/2020) Dr. Wafaa El-Sadr, a veteran of the HIV, tuberculosis and Ebola epidemics of the past decades, provides some perspective on the lessons learned from previous outbreaks and how knowledge is our greatest defense.