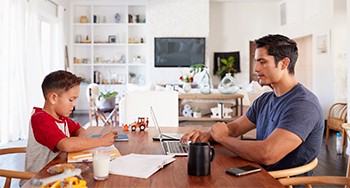 Last Update: 4/2/2020, 4:07 p.m.
In response to President Bollinger's announcement, CUHR has shifted to a remote work operation.The following information provides guidance to the HR teams across all campuses regarding how to submit transactions during this time, and changes to existing processes that are necessary to accommodate our primarily virtual workforce across the University. These changes are effective as of March 16, 2020, until further notice.
Guidance
Remote HR Processes
Last updated:  3/20/2020, 5:00 p.m.
The following processes and services will be conducted remotely:
Payroll and associated functions (such as time processing) in partnership with our colleagues in Finance.
 
The HR Service Center and Benefits Service Center will function remotely and continue to answer phone calls and web tickets.
 
Leaves of Absence Processing and Leave Management Support.
 
Senior Business Partner Client Support for critical guidance and approvals.
 
Transactions (which are deemed essential):
 

Electronic transactions in PAC (Hire/Rehire, eTerm, Labor Accounting, Visa/Contract Renewals) will be available and will continue to be processed based on payroll deadlines.
 
Other paper-based transactions, including PAFs, will be processed via email (Morningside/Manhattanville/Lamont-Doherty) or SharePoint (CUIMC) – please see other tabs for detailed guidance.
Form I-9
Last updated:  3/20/2020, 5:45 p.m.
As of Monday, March 23, 2020: The I-9 Centers at CUIMC HR and Kent Hall are closed. 
Any department who has personnel starting work while the University is in a primarily remote-operation must still comply with the requirement to complete section 2 of the I-9, in person, within the first 3 business days of employment. The following options are available to hiring managers:
I-9 Anywhere has been launched for the University.
IMPORTANT: The new hire must have his/her start date in order to complete an I-9 and the new hire must select "Columbia University - e-verify" as the location.
If you choose not to use the I-9 Anywhere service because the new hire is on campus, as is the local HR manager, hiring manager, or other authorized individual within the department, you can coordinate with the employee to complete a paper form I-9. The current version of Form I-9 and instructions for completion are available on the USCIS website.

When completing the paper I-9, you must photocopy and retain with the I-9 all documents presented for section 2. A copy of the I-9 and supporting documentation must be scanned and attached with the hiring TBH/PAF and the originals must be mailed to the attention of Kathryn Viola at:
                           Columbia University Human Resources
                           615 West 131st Street
                           Studebaker, 4th Floor
                           New York, NY 10027
                           ATTN: Kathryn Viola
Required Hiring Documents
Last updated: 3/18/2020
Tax Forms and Related Hiring Documents
If your HR department and/or the new hire is working remotely, signed tax forms and all other required documents should be received from the New Hire electronically. The electronic document will be treated as an e-signature. This process of electronic submission of hiring documents from the new hire is in place only for the duration of the remote operations due to COVID-19.
 
The electronic copy of the tax forms and all other required documents should be attached to the appropriate HR transaction.
Hiring Freeze
Last updated:  4/2/2020, 4:15 p.m.
Effective March 24, 2020. Read full Hiring Review Overview
Academic Hiring Requests
The review process for academic hiring will be managed by the Office of the Provost. All requests for posting new positions or hiring individuals into previously posted academic positions must first have Dean or Institute Director approval. All CUIMC proposed academic hiring is subject to an internal CUIMC process, culminating in the CEO of CUIMC approval, and then review with the Provost. The CEO of CUIMC, Morningside Deans and Institute heads may send requests for central approval to academic.hiringrequest@columbia.edu.
Requests should include the position title, description, and total compensation and expenditures including start-up funding, lab renovation, and housing expenses, if applicable. Requests should also include a justification for the exception to the freeze, and the funding source for the position. If the candidate is known, the request should include a summary of the candidate's qualifications, particularly if relevant to the exception request. In the final review of the request, the Provost will consult with the CEO of CUIMC, the respective Morningside Dean or Institute head to determine the appropriate pace of the hiring requested.
Administrative Hiring Requests
The central review process for Officers of Administration and Support Staff will be managed by Human Resources with assistance from the Office of Management and Budget. All requests for posting new positions or hiring individuals into previously posted administrative positions, including administrative positions within a school or institute, must first have Dean or Institute head approval, or for central administrative units, approval of the relevant Administrative Unit head. All requests for administrative hiring at CUIMC are subject to an internal CUIMC process, culminating in the CEO of CUIMC approval, and then review with central HR and OMB.
The following documents are required for your exception request:
Fill out the Hiring Freeze Exception Request form
Attach Job description as reviewed and approved by the DA or local HR
Current and proposed organizational chart
Candidate resume (for promotions/waivers)
Email the completed form to administrative.hiringrequest@columbia.edu
Submission Process
Please review the Hiring Freeze Process document for detailed steps on how to submit a request.
A few additional notes regarding administrative hiring:
Internal Transfers that result in salary increases are subject to this review.
 
Position upgrades, where an employee's responsibilities change, resulting in a grade change and possibly a salary increase, the grade change and any salary increase require review/approval. It is possible that conditions may change subsequent to obtaining central approval but before a new employee is in place. The following guidance relates to certain situations after central approval has been granted:
 

Position Description changes: Changes to an already approved position that has not yet been filled do not need to be resubmitted as long as the changes do not result in a higher grade than was originally approved.
 
Refilling positions: If a newly-approved hired employee vacates an approved position within three months of hire, and the position is going to be re-posted exactly as it was approved, the posting does not require another review.
Performance of Essential Work
Last updated:  4/2/2020, 4:05 p.m.
CUIMC is expecting all faculty and staff to be available for redeployment during the current Coronavirus pandemic unless they have a health or other valid reason why they cannot do so. That policy is based on our long-standing Guidelines for Essential Functions. 
The emergency we're facing is unprecedented, but the Guidelines are fully applicable here, as to any other emergency. That means:
Personnel designated as essential, with a work assignment that must be done on site, must come to work unless specifically excused by their schools or departments.  We have procedures in place to determine whether an employee may be excused – for example, because of illness or hardship.  There is no automatic exemption. Decisions are made on a case-by-case basis at the school or department level. Unexcused absences will be dealt with in accordance with applicable policies.
 
Personnel may be subject to redeployment or assigned new duties based on need and the availability of other personnel. Those who are assigned an essential function that must be done on site are subject to the same duty to report as other essential personnel.
We understand how stressful and disruptive the current conditions are and have put in place policies, where we could, to address employee concerns – for example, our recently announced policies on pay continuity and paid emergency absences. At the same time, we must meet our ongoing responsibilities: to assure the safety of our community and campus and, of particular importance at this moment, to serve our patients and help maintain our healthcare system as they continue to meet the challenges of this pandemic. Meeting these responsibilities requires sacrifice by all, but especially those working tirelessly on site at essential functions. We are deeply grateful to all, but especially to them.
(4/1/2020) The HR, Payroll and CUIT teams have been working on upgrading the current People @ Columbia (PAC) system. The upgrade will be implemented at the beginning of April and the updated system will be available on Monday, April 6, 2020.
(3/27/2020) We wanted to take a few minutes to check-in and update you on some of the questions and processes we have been fielding this week.
(3/26/2020) We have all made a great number of adjustments to our daily lives over the last several weeks. The following outlines two new temporary policies related to pay continuity and paid emergency absences. 
(3/25/2020) Watch a discussion about COVID-19 with leading experts from Columbia University. 
(3/24/2020) Dr. Stephen Morse discusses approaches to control the spread of COVID-19 and contain the virus.
(3/24/2020) Famed "virus hunter" Dr. W. Ian Lipkin answers your questions about what a virus is, where did COVID-19 come from, and what's on the horizon for potential treatments.
(3/24/2020) Dr. Wafaa El-Sadr, a veteran of the HIV, tuberculosis and Ebola epidemics of the past decades, provides some perspective on the lessons learned from previous outbreaks and how knowledge is our greatest defense.
(3/18/2020) New Hire Orientation sessions scheduled from March to April, 2020 are cancelled. New Hires should complete benefits enrollment using CUBES within 31 days of their start or hire date.
(3/18/2020)  With the possibility of a shelter in place, we need you to sign up for direct deposit to guarantee receipt of pay.
(3/17/2020) Resources for HR Managers during remote working and information to share with your faculty and staff.
(3/16/2020) As additional school systems announce closings, employees may be unable to work because of the need to care for their children.
(3/15/2020) Beginning Monday, March 16, we are asking only designated personnel who are required to perform essential functions to report to work on-site. 
(3/15/2020) Accelerated check out timeline for undergraduate residential students to Tuesday, March 17. Additional updates to campus and academic operations.
(3/13/2020) If your student casual/federal-work-study student is working either on-site or remotely, please follow your normal time entry and approval processes