Ergonomics Program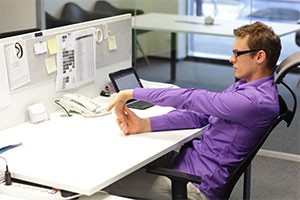 Did anyone ever teach you how to properly use your chair or keyboard, or stand while lecturing or experimenting? 
When workers adapt to workstations, musculoskeletal discomfort can occur. Ergonomics is the science of adapting a workstation to its worker, not the other way around. To help employees maximize comfort, health and safety, the University has recently hired an on-site ergonomist, trained to ensure equipment and facilities provide the greatest efficiency and support. The ergonomist can help set up workstations and make recommendations on how to become more active throughout the day (stretch breaks!). 
Ergonomics at Columbia
Kevin Myers, Columbia's onsite ergonomist, is a Certified Athletic Trainer who holds a Master of Science in Ergonomics and Biomechanics from New York University. Working with a physical therapist who noticed clients regressing after returning to work inspired Kevin to study ergonomics. "We spend so much time at work," he says. "It should be a setting that's productive, efficient and increases our health." 
If you have questions about ergonomics, email: [email protected].
Lunch & Learn Group Educational Workshops

Sessions designed to teach you how to best set up your desk, chair, take stretch breaks and more

Office Sweeps

Scheduled ergonomist walk-throughs to help employees on the spot at their workstation

Self-Assessments

Is your keyboard at the right height? Are your legs parallel to the floor? Evaluate the comfort of your workstation and get help with set up.

One-on-One Ergonomic Evaluations

Once you take a self-assessment, if you need further evaluation, the University's ergonomist will contact you to schedule a visit to your workstation
Why is ergonomics important?

Ergonomics can reduce the risk of discomfort or injury that can occur due to improper posture and repetitive stress.  

What happens at a one-on-one ergonomic evaluation?

The ergonomist observes your equipment and how you use it, then may make adjustments that better position everything in your workspace, based on ergonomic principles and practices. 

Does the ergonomist need to touch me to analyze me and my environment?  
Can I just figure this out on my own?

Maybe, though wouldn't you prefer an expert help you reduce your risk of discomfort or injury?
Move! It's the easiest yet most effective habit you can make to improve your ergonomics.
Taking time to move does not take away from your day, it adds to it. ~Kevin Myers, Ergonomist.
Ideas to get you moving all day long
Take micro breaks (2-3 minutes) every 30 minutes;
Set calendar reminders in Outlook or on your phone;
Fill and finish a giant water bottle, then refill;
Instead of email, go talk to a colleague; or
Join an on-site physical activity program with the Office of Work/Life.
Columbia University Benefits is committed to promoting additional ergonomic support in the workplace through a philosophy of ongoing education, training and ergonomic assessments, as applicable, in the workplace. Through the application of ergonomic principles, Columbia's ergonomic program aims to promote well-being within the work environment and to increase ergonomic awareness. The Ergonomic program at Columbia University is supported by an Optum on-site ergonomist and the ErgoPro in Flex assessment tool. The ergonomist will act as a liaison to the University on ergonomic matters. The ergonomist may also work with the Leave Management team to advise on proper ergonomic equipment and in the assessment of needs for medical accommodation cases. Coordinated efforts will be maintained with other University departments, including EHS and HR Departmental contacts, as applicable.