Certificate Programs
Certificate programs provide significant personal and organizational development resources, as well as interdepartmental networking experiences. The multi-week interactive format introduces practical tools and enables immediate application to real workplace challenges and opportunities.
For Fall 2021, Learning & Development is offering a virtual multi-week development program called, Accelerators.
---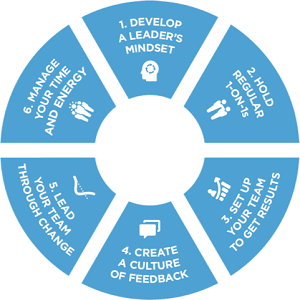 Accelerators:
The 6 Critical Practices for Leading a Team
Tuesdays & Thursdays, October 12th - 28th, 2021 from 10:00am - 12:30pm 
The 6 Critical Practices for Leading a Team provides first-level leaders the essential skills and tools to get work done with and through other people. This multi-week blended learning program combines self-paced online learning with live virtual workshops, and networking opportunities with other managers across the University. Participants will cultivate the skills and day-to-day practices for managing staff, building a positive work culture, and establishing individual and team resiliency.  
This program is virtual for Fall 2021. For Registration and Payment details, please review the Registration and Cancellation Policy. Once your registration is confirmed in ELM, you will receive the virtual workshop URL and instructions on how to prepare for the session.
---
Additional Certificate Programs 
To learn more about future opportunities, download the Certificate Series Roadmap, and discover which program may best suit your professional goals.
Check back for future offerings of Certificate Programs for Spring 2022.
To inquire on a customized program for your team or department, please contact Learning & Development at [email protected].