Workers' Compensation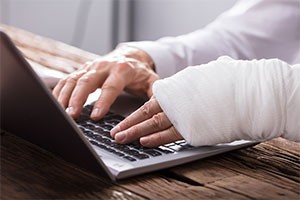 All Columbia University employees are covered by the New York State Workers' Compensation Law. Workers' Compensation is insurance that will provide you with cash and/or medical care if you have been injured or become ill as a direct result of your job. Claims for Workers' Compensation may be filed in situations where you just want to report that an incident occurred as well as for those incidents that require a medical leave of absence.

Submit Accident Report
First, if needed, seek medical attention. Second, report the accident to your supervisor. And then fill out the Accident Report form within 24 hours of the incident:
Download and print the Accident Report Form

Complete all sections of the form 

Sign it

Scan and email the form to:
And your Departmental HR contact or your supervisor
---
After the Accident Report Form is completed, your Departmental HR Contact will file a claim with the Workers' Compensation insurance carrier on your behalf. Further review of the incident may be initiated by your supervisor, Department or someone from Environmental Health and Safety.
If you will be absent from work due to your injury, follow the instructions below.

Important Notices
The Leaves of Absence section is intended only to provide information and guidance for processing leaves for Columbia University Officers, staff and union employees. The writers of the content have exercised their best efforts to ensure accuracy of the information, but accuracy is not guaranteed. If there are any discrepancies between the information on the website, verbal representations and the Collective Bargaining Agreements (CBAs) or applicable University policies, the CBAs and applicable policies will always govern. The information is subject to change from time to time. The information contained on the website is intended to provide examples and does not replace the CBAs or University policies.
In addition to FMLA, other University policies and laws, if eligible, will run concurrently, including NY Safe and Sick Leave and all applicable State/City/County Laws.
FMLA does not supersede any University policy or collective bargaining agreement that provides greater family or medical leave rights than the rights established under FMLA. Conversely, FMLA provides that the rights established for employees under FMLA cannot be diminished by any policy or agreement.
The leave granted under FMLA generally is a lesser benefit than that available under various University policies and collective bargaining agreements. Because the University meets or exceeds FMLA requirements in many respects, this policy designates many existing types of leave as FMLA leave, so that the University leaves and the FMLA leave run concurrently.