Workers' Compensation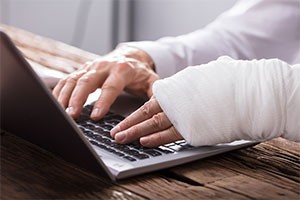 All Columbia University employees are covered by the New York State Workers' Compensation Law. Workers' Compensation is insurance that will provide you with cash and/or medical care if you have been injured or become ill as a direct result of your job. Claims for Workers' Compensation may be filed in situations where you just want to report that an incident occurred as well as for those incidents that require a medical leave of absence.

Submit Accident Report
First, if needed, seek medical attention. Second, report the accident to your supervisor. And then fill out the Accident Report form within 24 hours of the incident:
Download and print the Accident Report Form

Complete all sections of the form 

Sign it

Scan and email the form to:
And your Departmental HR contact or your supervisor
---
After the Accident Report Form is completed, your Departmental HR Contact will file a claim with the Workers' Compensation insurance carrier on your behalf. Further review of the incident may be initiated by your supervisor, Department or someone from Environmental Health and Safety.
If you will be absent from work due to your injury, follow the instructions below.