College Coach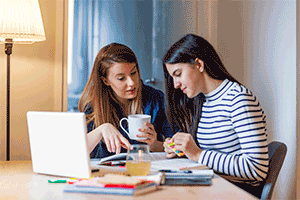 College Coach is the latest addition to the University's suite of Tuition Programs and is available at no cost to active Faculty and Staff. Administered by Bright Horizons, a leading provider of educational counseling services, College Coach gives you access to a team of college admissions experts who can help you maximize your child's success. Suggested for parents of 9th-12th graders. 
About College Coach
College Coach experts include former senior admissions and financial aid officers from some of the nation's most well-known higher education institutions. Expert guidance is available through live events, online support and personalized assistance.
The program is designed to help you and your family members:
Navigate the complex college admissions process
Select high school courses and extracurricular activities
Narrow options and select a college or university for your child
Choose a college savings plan
College Coach Registration
To access the College Coach resources, register with Bright Horizons.
Click "Not signed up yet? Register Now"

Employer Username: Columbia 
Employer Password: Benefits4You (case sensitive)

Create your Account Profile to get started
If you have used the University's backup care program in the past, log in to College Coach using the username and password you created for that service. The College Coach website provides the ability to look up your old username and password if you have forgotten it.
College Admissions: The Insider's View
Tuesday, February 2, 2021  |  3:00 pm 
– or –                                                                      
Tuesday, March 23, 2021  |  8:00 pm

Admissions shouldn't be a guessing game. But with close to 4,000 schools to choose from — and an increasingly complex admissions process — you and your student might be overwhelmed, wondering where to start. In addition, all of this has been complicated further by COVID-19. You don't have to stress! Join us to find out exactly what decision-makers look for in a standout application package and learn about key topics, including:
How colleges evaluate applications
Planning a high school academic program with college in mind
Understanding how to remain involved even when high schools are closed
Putting together a strong college list
Tips for choosing a topic and crafting a strong essay
Suggestions for avoiding some common application pitfalls
How to narrow options and select the right college
This topic is suggested for parents/guardians of 9th – 12th graders.
Login Username: columbia  |  Password: Benefits4You
---
Writing Your Best College Essay
Wednesday, July 14, 2021 |  8:00 pm EST 
When it comes time for your student to write the college essay, your family will be prepared with tips from our experts. Get guidance on what it takes to craft a stand-out essay… and succeed in the competitive admissions process. Join us for a live, interactive session to learn: 
What makes a strong, appropriate, and engaging essay topic
Strategies for brainstorming, methods for writing, and tips for editing 
How to avoid common mistakes and pitfalls
Insight into our former admissions officers' favorite essays 
How to get the most out of your free essay review benefit 
This topic is suggested for rising 12th graders and their parents/guardians
Login Username: columbia  |  Password: Benefits4You
---
Successful Scholarship Strategies
Tuesday, August 17, 2021  |  3:00 pm ET 
A basic web search for the word "scholarship" yields nearly 200 million results. Many parents — particularly those with minimal to no need-based aid eligibility — are counting on scholarships to reduce their children's college costs. But with so many options, most families don't know how to efficiently find scholarships their child has a greater likelihood of receiving. This program will streamline the scholarship search process, teaching you how to:
Understand the difference between college-based and privately funded scholarships
Strategically develop a college list to maximize college-based scholarship funding 
Identify the best sources of outside scholarships and avoid scams
Organize the scholarship application process 
Fit scholarships into an overall college finance plan 
This topic is suggested for parents/guardians of 9th – 12th graders.
Login Username: columbia  |  Password: Benefits4You
Programs and Resources
The College Coach online learning environment provides videos, resources and frequently asked questions for you to access on demand. It's a great starting point for introducing the benefit to your whole family. 
Consult with College Coach admissions and college finance experts in private phone sessions tailored to your needs. You can discuss your family and student's application questions, create plans for high school and more.
*You must register for College Coach before registering for phone counseling.
Simplify the college search process with a custom list of colleges and universities based on your student's preferences, interests and academic record. The list is created by a College Coach admissions expert based on a detailed student questionnaire and features a brief informational profile and estimated chance of admission for each school.
Help your student craft their best application essays with exclusive written feedback from College Coach experts on college application writing supplements and activity resumes.
College Coach will provide written answers to your specific questions through the Quick Questions tool. 
*You must register for College Coach before you can send questions.
College Coach FAQs
I have heard that if I save for college, my children will get less financial aid. What should I do?
While it is true that saving for college can reduce a student's financial aid eligibility later on, it is better to have savings than to not have savings. If you plan carefully, you can save in ways that have little impact on financial aid relative to the amount of education your savings will purchase.
The financial aid formula is designed to support parents who save for college. First, it is more dependent on family income than on savings. After allowances, parental income is assessed in the financial aid formula at rates between 22% and 47%. Parental assets are assessed at a much lower 3% to 6% rate.
What does this mean? Well, consider two families, each of which has parents who together earn around $100,000 each year. One of the families has managed to save $100,000, while the other has no savings to speak of. The standard financial aid formula used by most colleges will set a Parental Contribution for the first family (the ones who saved) at around $22,000 per year. This family will have no problem paying for college: they have $100,000 saved. The second family (who did not save) will be asked to pay around $18,000 per year. They may have a hard time meeting that expectation, as they don't have savings. They will either have to reduce their annual expenses by $18,000 a year to create cash flow to pay for college, increase their income by around $30,000 (to have enough money after additional taxes, to cover a payment of $18,000 a year), or borrow, to cover this cost.
There is one thing to be mindful of as you save: the financial aid formula is kind to savers who save in parent-owned accounts. It is not kind to those who build assets in accounts owned by the student. If your goal is to save for college while minimizing the loss of financial aid in your child's future, make sure you don't transfer ownership of your savings to the future student.
(Q&A provided by College Coach)
Should my student be taking the most challenging courses, even if it might hurt the overall GPA?
Your child should challenge but not overwhelm him/herself when choosing courses. Most students experience the greatest level of success and satisfaction when they challenge themselves in the coursework they enjoy most. Admission officers are not impressed with good grades in a curriculum that lacks challenging courses.
(Q&A provided by College Coach)
How many activities should my student get involved in?
The number of activities is not as important as the commitment to the activity. Five hours spent with one club bears more fruit than one hour spent with five different clubs.
(Q&A provided by College Coach)
How many colleges should my child apply to?
There is no perfect or absolute number that applies to every student.  College Coach recommends that students apply to around seven schools representing varying levels of selectivity.  An ideal list would consist of two "challenging schools," institutions where the average accepted applicant's profile is stronger than your student's profile; three "just right" schools, where the average admitted student's academic performance is equivalent to your student's record; and  two "no problem" schools, where your child's academic performance clearly surpasses the typical admitted applicant.
(Q&A provided by College Coach)
If I apply for financial aid, will it adversely affect my chances for admission?
At some schools, a financial aid application can reduce the student's chances for admission, while at others, it won't. Many schools are "need-blind" and do not review the financial aid application, if there is one, during the admissions decision process. Others are "need-conscious" and in one way or another favor the admission of non-aid applicants, or students from high-income families.

In general, the presence of a financial aid application is much smaller factor in admissions than the data from the admissions application. Many need-conscious colleges admit almost all of their classes on a need-blind basis, and reserve a small fraction of admissions, perhaps 10%, for students who do not need financial aid. Others allow finances to play a minor role in the evaluation of all candidates.
(Q&A provided by College Coach)