Preventive Care Services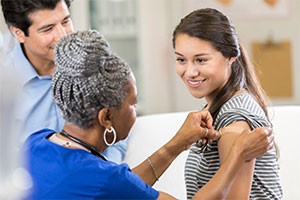 Preventive care helps you stay healthy and is critical to ensuring good health throughout your life. Medical services that defend against health emergencies, illnesses and diseases—like annual check-ups, immunizations and screening tests—are considered preventive care. From preventing diseases to diagnosing problems early on, preventive care should be a regular part of your healthcare routine.
Prevention Care
Visit the Preventive Care page of the UnitedHealthcare (UHC) website and generate a checklist of preventive services you may consider based on your age and gender. These may include annual wellness exams, flu shots, colorectal screenings, breast cancer screenings, Hepatitis C screenings and more. Discuss this list with your doctor, and then call UHC to find out which services are covered at 100% if you use in-network providers. You can also find coverage information in the Summary Plan Descriptions (SPDs).
Without a Primary Care Physician (PCP), your ongoing medical care may become less consistent, efficient and personal. A PCP will get to know you and maintain your health history. They're also your first line of defense in prevention and your teammate in helping to manage a chronic condition. If you don't have a primary care doctor, find one within the UHC network by using UHC's directory.
Ask your doctor about catch-up immunizations that you may have missed, or others that require adult boosters. Your Columbia benefits cover preventive vaccines
Get a preventive health screening to check important physical characteristics such as your blood pressure, cholesterol and body mass index
Check that you and your family are up to date on vaccinations
Don't ignore your teeth – dental hygiene is connected to the health of the rest of your body
Get an annual flu shot, free through Columbia Health
What Preventive Health Screenings May be Best to Consider:
Am I at risk for heart disease?
What screening tests make sense for me?
Should I consider genetic testing to find out risk factors?