Course Offerings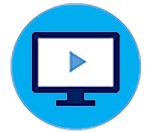 New professional development offerings include online webinars, virtual workshops, job aid tools and other resources to enrich your learning experience and skill building practice.
Online Offerings Details
Review the Spring 2020 Course Snapshot for upcoming online offerings.
Webinars
Join us for a 30 minute webinar:
Delivering Performance Reviews Remotely*
Deliver fair, honest and balanced performance reviews.
The recording is now available, select the course to view the webinar.
Effective Communication Strategies When Working Remotely
Building connections with remote colleagues by utilizing effective communication techniques.
Wednesday, June 3rd at 12:30pm
---
Virtual Workshops
Enroll in a remote learning course that spans from 2 to 6 hours with several scheduled breaks:
Essentials to Managing Blended and Remote Teams*
Review best practices, key University offices and resources for effective team management.
Wednesday, May 20th at 10am
Upskilling Your Career During Challenging Times
Learn career management strategies that leverage your skills, interests and professional goals.
Wednesday, June 10th at 10am
Project Management Essentials for the Unofficial Project Manager (Virtual)
Develop the mindset, skillset, and toolset to consistently deliver successful projects to completion.
Wednesday, June 24th at 10am - Filled
Wednesday, July 8th at 10am
*These courses are designed for Faculty and Managers
---
Coach on Call
30 Minute Performance Review Prep for Managers.
Set up an individual appointment to prepare, practice, and debrief your conversation.
Registration
To register, view online offering details and click the title of the offering. You will then be directed to ELM. Upon registration, you will be prompted to click the Enroll button that appears on screen.
Please contact your Manager for approval before registering.
Access the Register for a Course – Employees job aid for detailed instructions on how to register for a course.
Email hrlearning@columbia.edu if you need further assistance.