Dependent Eligibility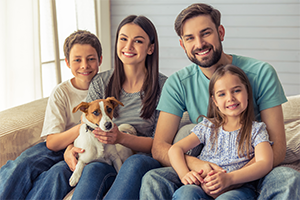 For most Columbia University health and welfare benefits, your dependents will be covered if you verify they meet certain requirements. The covered Columbia benefits include medical, prescription drugs, vision, and dental.
How to Cover Your Dependents
Legal spouse
Qualifying domestic partnerships on or before January 1, 2023.
Legally dependent children, including:

Biological or adopted children
Stepchildren
Foster children
Children for whom you have a court-appointed legal guardianship
 

Dependent children are covered:

Until the end of the month in which they turn age 26;
For EmblemHealth Dental coverage, until the end of the calendar year in which they turn age 19*
At any age if they have a physical or mental disability, provided that when they were diagnosed, they were covered dependents and it was prior to the end of the month in which they turned 26;
If you're a newly eligible employee and your disabled child is older than age 26 when you are electing coverage, you may apply to cover your child when your coverage begins;
If you're an eligible employee when your child meets this definition, you must apply for continued coverage before the end of the month in which he or she turns age 26.
If a court has appointed you as the legal guardian for any child from birth to age 26.
Please note that eligible children are defined differently for Flexible Spending Accounts (FSAs), Health Savings Account (HSA), Tuition Benefits programs and Dependent Life Insurance.
*Applies to Non-Union Support Staff and members of 2110, TWU and SSA.
If you and your spouse both work for the University and are eligible for coverage, choose coverage in one of the following ways:
One spouse makes the choice for the entire family, including eligible dependent children, if any. In this case, the other spouse selects "No Coverage"; or
 
Each spouse enrolls separately and one spouse covers eligible dependent children.
You do not have to cover the same eligible dependents for the medical and dental plans. For each plan, you have the choice of covering:
Yourself only;
Yourself and your spouse;
Yourself and a child or children; or
Family
To make a change to dependent eligibility, log in to CUBES with your UNI and password, choose "Change in Family Status?" and follow the prompts.
When your dependent is no longer eligible, it is your responsibility to report this change to the Columbia Benefits Service Center within 31 days of the change.
The University is required to ensure only eligible expenses are paid from its plans. This requirement is consistent with IRS regulations that govern the operation of a qualified benefits plan.
Verifying Dependent Eligibility
If you are adding a dependent to your coverage, you are required to provide documentation before the dependent's coverage is effective. If you are not able to provide proof that your dependent is eligible for coverage, your dependent's coverage will not be activated.
To add your dependent at the time you enroll in your own benefits, or due to a Qualified Life Status Change, log in to CUBES with your UNI and password, and follow the prompts.
After you've completed enrollment, an alert will appear on your record. Click "Alerts" to go to the Dependent Verification page to upload your documentation.
If you have questions or cannot scan documents, contact the Columbia Benefits Service Center: 212-851-7000.
Remember: You must enroll for benefits within 31 days of your date of hire or eligibility.
Important: For security reasons, please remove all Social Security Numbers from paperwork—you should enter Social Security Numbers directly into CUBES when first adding your dependents.
Types of Documentation
Dependent

Spouse

Documentation*

Civil/legal marriage certificate
Dependent

Child

Documentation*

One of the following:

Child's birth certificate
Adoption certificate/court order
*If your document is in a foreign language, please submit a copy of the original document as well as a notarized English translation. The document must be translated by someone other than yourself or your family member.

Social Security Numbers for Dependents
Under the Patient Protection and Affordable Care Act (ACA), the IRS requires all employers to collect the Social Security Number (SSN) for all employees and their dependents covered by benefits plans. SSNs are required to add a dependent to your coverage. If you have dependents who do not have SSNs, please call the Columbia Benefits Service Center: 212-851-7000.
---