Local 2110 - Prescription Drug Coverage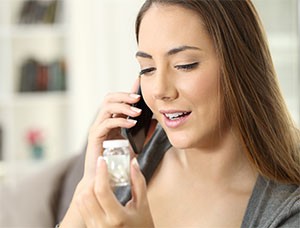 When you enroll in any Columbia University medical plan, you are automatically enrolled in the Prescription Drug plan, administered by OptumRx.
To find participating pharmacies or enroll in the OptumRx mail-order program, log in to myuhc.com and choose "Manage Your Prescriptions" or call 800-232-9357 for assistance.
Using Your Benefit
The cost of your prescriptions depends on a number of factors, including whether you buy your medication through a retail pharmacy or through the mail-order program and whether the drug is generic, single-source or multi-source.
Copays
All prescription drugs are subject to a copay, and that copay accumulates to your out-of-pocket maximum.
Prescription Drug Copays
Retail Pharmacy (up to 30-day supply)

• $10 generic
• $25 single-source
• $45 multi-source

Mail-order (up to 90-day supply)

• $15 generic
• $50 single-source
• $90 multi-source
After you reach the annual out-of-pocket maximum, the plans pay 100% of the cost of prescription drugs.
If no generic is available, it is a single-source drug.
If both a generic and brand name prescription are available, it is a multi-source drug.
To find out if a drug is single-source or multi-source, ask your pharmacist, call OptumRx: 800-232-9357 or log in to myuhc.com; choose "MANAGE YOUR PRESCRIPTIONS."
Due to periodic reviews by OptumRx, or if the U.S. Food and Drug Administration (FDA) approves a generic-equivalent drug, prescriptions may move from single-source to multi-source during the year.
You need to present your UHC ID card the first time you fill a prescription. You can have up to a 30-day supply of your prescription when filled at a retail pharmacy.
In New York, New Jersey and other states, a pharmacy is required by law to substitute a brand name drug with a generic. Your copay is $10 or the cost of the generic drug, whichever is less.
 
If no generic is available for your prescription, your drug is "single-source" and you will pay $25.
Using the prescription drug mail-order program, you can order up to a 90-day supply. Recommended for people who use medication on a regular basis, mail-order should be less expensive than retail pharmacies and offers easy refill—online or by phone.  
To enroll, log in to myuhc.com and choose "Manage Your Prescriptions" then "Order Prescriptions" or call 800-232-9357 for assistance.
Specialty medications must be purchased via mail-order from Optum Specialty Pharmacy. Optum Specialty Pharmacy will mail your prescription in an unlabeled package to you at the address of your choice.
Call 855-427-4682 to speak to a patient care representative to get started. Typically, you will receive a 30-day supply of the prescription at the retail pharmacy copay.
If you use any pharmacy other than Optum Specialty Pharmacy, you will be subject to the full cost of the medication, not a copay.
Select hundreds of health products online at the Optum Store. Regardless of medical plan enrollment, you may use your Flexible Spending Account (FSA) and Health Savings Account (HSA) benefit.
The online store carries over-the-counter medications and physical health products, including:
Cold, allergy and sinus
Feminine care and family planning
Baby and childcare
Diagnostic test kits
High-tech health devices
Have questions? FAQs have you covered.
Effective January 1, 2022, Columbia University partnered with the IPC Copay Assistance Program administered by PillarRx to reduce your costs for certain eligible high-cost medications that you may be taking to manage your health. This is a confidential program managed directly by PillarRx.

ID Card
UHC ID cards have member information for medical, vision, and prescription drug coverage. You do not need separate cards for each benefit. After enrolling in a medical plan, it can take three weeks for a UHC ID card to arrive in your mail. 
If necessary, you can print a temporary UHC ID card two weeks after enrolling. Create an account on myuhc.com to print a temporary ID card. Use your Social Security Number, date of birth, and Group number 712790.