Our Services and Mission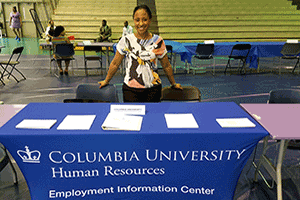 Columbia is committed to hiring locally and providing employment services to the community. Since 2004, The Center has been a fixture in West Harlem and serves as a critical resource for people to access employment at the University and improve their skills. Job search assistance and job readiness workshops are free of charge to all visitors. Upon entering our office on West 125th Street, you'll be greeted by friendly staff in a pleasant environment.
Services
Center staff help facilitate the hiring process; however, the University's schools and departments remain responsible for hiring decisions and informing candidates of direct employment offers. 
Staff at the Center are available for personal, one-on-one meetings to assist with a job search. In these meetings, we cover the following areas:
Plan and discuss the job search strategy, and identify positions that best match experience or career interests
 
Review the résumé and cover letter, and provide feedback on potential areas for improvement
 
Conduct mock interviews to help prepare for future interviews with Columbia University hiring managers or other potential employers
 
Provide referrals to community resources to further assist with individual needs
The Center provides training and counseling services designed to strengthen your career potential. We especially encourage applicants from 17 specific zip codes located in Upper Manhattan and the Bronx: