Pet Insurance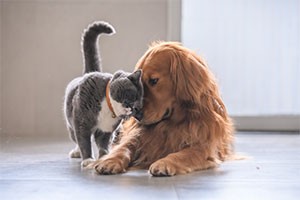 Pet insurance can help provide your pets with the best medical care possible, including treatments, surgeries, lab fees, X-rays and prescriptions. Policyholders can visit any licensed veterinarian, veterinary specialist or animal hospital in the world, and have access to a 24/7 helpline staffed by licensed veterinarians.
The University's Pet Insurance is provided by Nationwide.
How it works
You pay for coverage with payroll deductions
Cost does not increase with pet age or breed
Each pet is issued an individual policy
After $250 deductible, plan reimburses you for 90% of eligible vet bills
Maximum benefit amount $7,500 is restored every year
Take policy with you if you end University employment
If you have questions or wish to enroll in this benefit, call Farmington, the University's Voluntary Benefits administrator: 866-494-4498.
More Information 
Insure Your Best Friend video: