Legal Services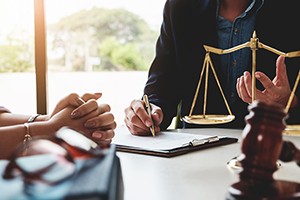 Legal help can be valuable at every stage of life, whether you're getting married, sending kids off to college or retiring and planning for the future. Having access to expert legal help allows you to navigate life's milestones confidently. 
The University's Legal plan is provided by MetLife.
How it works
Pay for coverage with after-tax payroll deductions.
University employees, spouses, and eligible children up to age 26 maintaining a U.S. zip code can be covered.
Parents Plus services - specific to parents, step-parents, parents-in-law, and grandparents maintaining a U.S. zip code (up to 8 people) - are included in the plan. Additional information can be found in the MetLife Product Overview.
Network attorneys are available in person, by phone or by email and online tools to do it yourself

There are approximately 500-600 network attorneys within the five boroughs of New York City.

You can choose which attorney to use from the MetLife network of prequalified attorneys, or use an attorney outside of the network and be reimbursed for some of the cost, based on the MetLife Fee Reimbursement Schedule linked below.
Unlimited access to attorneys for all legal matters covered under the plan, even if you have several legal needs happening at the same time.
Legal services typically cover a wide range of legal matters such as: wills and estate planning, buying or selling a home, debt collection, traffic tickets, family law and more.

Some exclusions may apply, including employment related matters or matters for which an attorney-client relationship exists prior to becoming eligible for the plan. For specific details, please refer to the MetLife Plan Fact Sheet.
If you have questions, please contact MetLife at 800-821-6400.
More Information