Registration closed
The Health Screenings have concluded for the current Open Enrollment season. We'll see you next year!
During Open Enrollment, free biometric screenings are available to Faculty and Staff to help you to understand the state of your health. You can keep track of your yearly numbers and learn how to take the necessary steps to make improvements. The screenings include:
Body composition: Height, weight, body mass index, body fat percentage, and waist circumference
Blood pressure
A blood sample to test cholesterol, triglycerides and glucose (sugar) levels
After your health screening, you will receive a personal copy of the results and a health education booklet with easy-to-understand explanations for each test.
For accurate screening results, fasting is recommended but NOT required. If you eat, you may still get screened.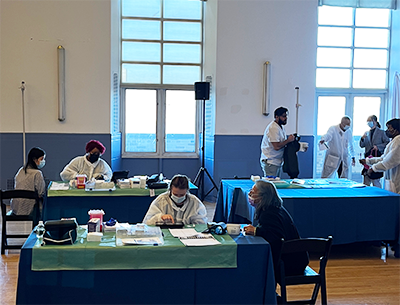 ColumbiaDoctors and other benefits providers set up stations at locations across the campuses to conduct biometric screenings to help faculty and staff take control of their health. 
Biometric Screening Information and Resources
Ophthalmology
Your eyesight is precious, and an eye exam is a vital component of your annual preventive care. A comprehensive ophthalmological exam with an eye care provider can detect problems before they become serious and help you have the best-possible eye health.
Our ColumbiaDoctors Ophthalmology team will be on-site to conduct a brief screening for risk factors, answer questions, and help Columbia employees make eye exam appointments.
To make an appointment with a Columbia provider, call (212) 305-9535, or learn more about our general services. Your care is covered under Columbia healthcare benefits.
Dermatology
Protecting the skin you're in can start with a simple screening once a year. This important preventive care can go a long way to maintaining health – and everyone can benefit. ColumbiaDoctors Dermatology experts will be on hand to provide a free skin cancer screening of the face and hands, and to answer general questions about how to take care of the body's largest organ. All Columbia employees are welcome to participate. An annual full-body screening by a trained expert is recommended for all. 
Visits with Columbia board-certified clinicians are covered under Columbia healthcare benefits, and appointments for a full-body screening and other services can be made by calling (212) 305-5293. 
CUHR Benefits
Columbia University offers a full range of benefits to help you and your eligible dependents stay healthy, build long-term financial security for retirement, and meet educational goals. Representatives from CU Health and Welfare and Retirement will be available for any questions.  
UnitedHealthcare
Columbia University offers a comprehensive benefits package to help you stay well and protect yourself and your family. The benefits package includes competitive high-quality healthcare benefits, wellness programs, and resources from UHC. Speak to a UnitedHealthcare representative at the event and see what options are available.
ColumbiaDoctors
We are leading the way and delivering today's most advanced care. We can help you and your family to thrive, at convenient locations throughout the tristate area. Stop by to learn more about the excellent primary and specialty services provided by ColumbiaDoctors. 
ColumbiaDoctors Dentistry
Take the opportunity to speak with and learn about the comprehensive, personal care offered by the Columbia College of Dental Medicine. Our state-of-the-art services put all the specialties you need in one place. 
Aetna
The University offers two comprehensive dental plans through Aetna. Both plans cover the same range of services but differ in cost depending on the plan you choose and the provider you see. Come speak with a representative at the event to learn what is best for you and your dependents. 
Maven
Maven offers family building and fertility services through Columbia healthcare benefits. Maven provides Care Advocates 24/7 that will guide you through your journey with personalized and continuous support, make referrals to in-person care such as specialists and facilities and direct you to educational and community support resources.