February is Heart Health Month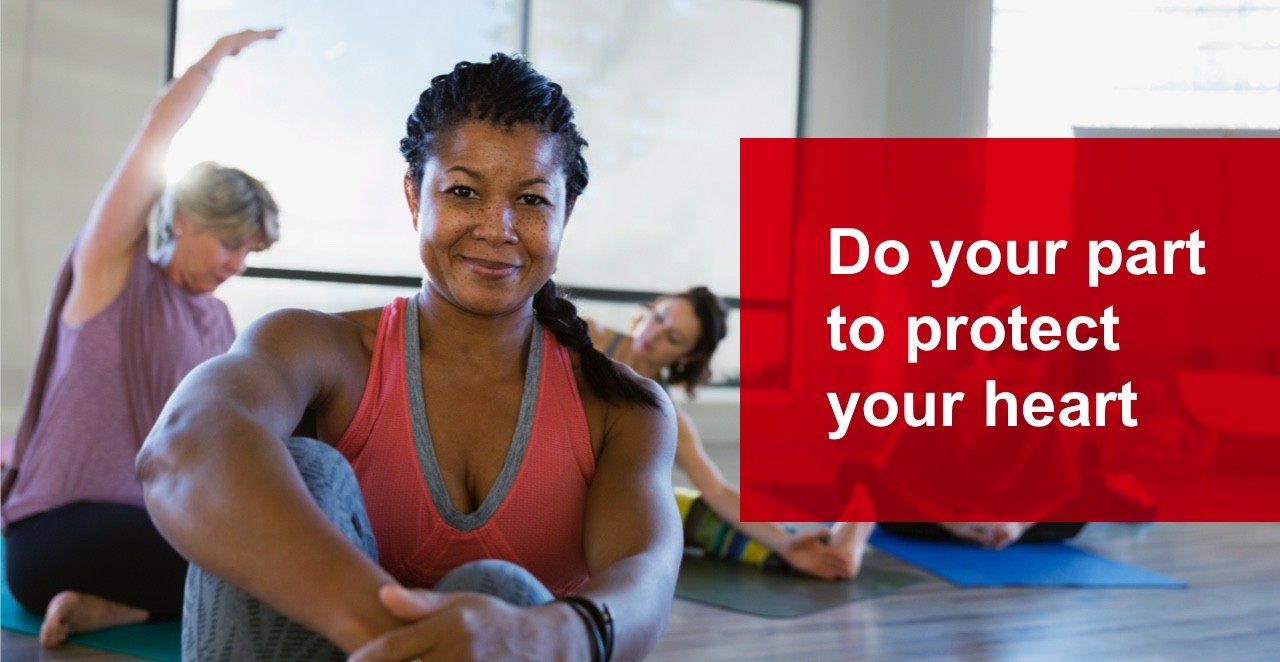 Your heart health is affected by more than just blood pressure, cholesterol, and sugar levels. Whether you have an existing condition or just want to prevent future issues, learn simple ways to improve your diet, add small amounts of activity, and change habits to keep your heart in peak condition.
Nearly 1 in 2 U.S. adults have high blood pressure. Regularly monitoring your blood pressure, with support from your health care team, can help lower your risk for heart disease and stroke. Check your blood pressure:
By a health care team member at a doctor's office
At a pharmacy that has a digital blood pressure measurement machine
With a home blood pressure monitor that you can use yourself

Check when you wake up (before eating or taking any medication is best)
Check before you go to sleep at night
Take two or three readings to ensure accurate results
Heart Healthy Nutritional Guidelines: From the American Heart Association
Reduce sodium (salt) in foods
Read food labels
Eat more color – a variety of the rainbow of fruits and vegetables
Limit your meat consumption (red meat is higher in saturated fat)
Limit alcohol (2 drinks a day for men/ 1 or less a day for women)
Manage other health conditions such as diabetes
Take prescribed medication, if directed by your healthcare provider 
Your heart is a muscle. Regular exercise can lower your blood pressure, strengthen your muscles, help maintain your weight, and improve your heart health. Aim for 30 minutes of exercise a day. Try to break up the activity into smaller 10- or 15-minute sessions. Go to a gym or do an at home workout.
Walking is an exercise and can be done anywhere! Take a walk around the block; start walking uphill; take the stairs.
If you don't exercise regularly, getting started can be as challenging as any lifestyle change. Finding help, however, is easy. Your Columbia benefits include one-on-one wellness coaching and self-guided tools. There are discounted gym memberships offered through the University's Office of Work/Life and Aetna's Dental Benefits.
Fitness Savings in Aetna's Dental Benefits
If you are a member in any of Aetna's dental benefits - you have access to fitness savings:
Go to aetna.com and register, or log in to your member website
Choose "Health and Wellness"
Select "Browse Discounts"
Enjoy the discounts and other included savings!
Break down your physical activity time to 10 minutes (30 minutes a day, most days of the week)
Take the stairs (at work, at home, whenever you can)
Get off the subway or bus a stop or block earlier to your destination, or park further away
Make it a family affair (running around chasing your pets or kids offers some heart pumping activity that's fun)
Take an extra lap around the block, store, or mall
Multitask while watching TV (squats, push-ups, stretch!)
Stand up at your work desk (or move to a countertop)
Sleep is time for the body to restore and heal. Aim to get 7 to 9 hours of quality sleep each night. Create a consistent bedtime, turn off your electronic devices an hour or more before bed, take a shower or read to help you relax, try to have a quiet and dark environment to set the mood.
For more information: Columbia's Sleep Resources
Manage your stress levels to improve your overall health and reduce your risk of heart disease. It increases your cortisol levels, raising your insulin and blood pressure. Start working towards alleviating stress today.
Adopt a few simple practices to alleviate stress:
Meditate – focus on your breath
Take a break from news and social media
Practice gratitude
Limit your alcohol intake
Enjoy a balanced diet
Stay positive  
Take a moment for yourself
For additional ways to manage your stress, check out the resources below:
Along your journey, reach out to the Employee Assistance Program (EAP) to work with a CareNow representative and view various programs and services. 
CareNow Counseling includes: 
Specialized self-help resources developed by our world-leading experts. Choose among 20 paths from five categories (Body, Work, Mind, Relationships and Finances) to effect positive life changes.
Specialized exercises, assessments tools, podcasts and videos - all focused on positive behavior change.
The EAP is for ALL benefits eligible and their household members.
To learn more, contact LifeWorks at 844-636-1260 or visit their website.       
Wellness Coaching is a healthy lifestyle program available to Columbia University medical plan participants and dependents at no additional cost. Work with a wellness coach over the phone and with additional web-based support to help you eat better, move more and lose weight.   
To learn more or to enroll with a coach, contact United Healthcare at 800-232-9357 or visit their website.
Columbia University offers resources to support your everyday needs and life events for you and your family.