Women's Health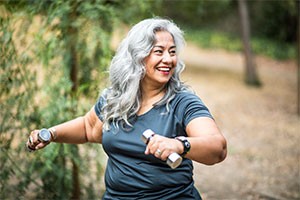 Nothing is more important than your health and well-being. Women's Health Programs, available through UnitedHealthcare (UHC), are open to all faculty, staff and covered dependents to help everyone achieve the best possible health.
Women's Health Resources
Preventive care helps you stay healthy. Medical services that defend against health emergencies, illnesses and diseases—like annual check-ups, immunizations and screening tests—are considered preventive. If you are enrolled in a Columbia medical plan, in-network preventive services are covered at 100%, with no payment needed from you.
The University's medical plans are compliant with the ACA and federal guidelines pertaining to coverage for preventive services. UnitedHealthcare (UHC) follows the preventive immunization guidelines recommended by the CDC and the guidelines of the U.S. Preventive Services Task Force A & B recommendations for determining what is considered preventive care. See U.S. Preventive Services Task Force Recommendations.
Examples of Preventive Health Services for Women:
Preventive Breast Ultrasounds, when billed by a physician with a preventive diagnosis
Digital Breast Tomosynthesis (DBT), also known as 3D Mammography
Cervical cancer screening
Pre-eclampsia screening, included in a prenatal visit
Osteoporosis screening for women age 65 and older
Maternal Health Resources
The University offers a newly-enhanced, Family Building benefit for all covered members and eligible dependents. The benefit includes fertility services administered by United Healthcare (UHC). There is no requirement to meet a definition of infertility or infertility criteria required for covered members or eligible dependents to access this benefit. 
Prior to initiating fertility services, you or an enrolled dependent must call Fertility Solutions (866-774-4626) to enroll. Fertility Solutions is a program administered by UHC that assists with education, guidance and referrals. Experienced fertility nurses offer support and guidance throughout the fertility process.
Therapeutic services under the Family Building benefit may include Assisted Reproductive Technologies (ART), including Reciprocal Fertility Services, and insemination procedures including artificial insemination and intrauterine insemination, when provided by or under the direction of a physician. Additionally, the benefit covers some associated donor medical expenses. 
If your baby is born preterm or with a serious health problem, Neonatal Resource Services can help with a dedicated team of nurse case managers, social workers and other services.
The Maternity Support Program helps ensure you and your baby receive the best care, from pregnancy through the first months of the baby's life.