Physical Fitness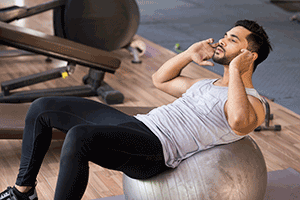 Columbia University has two fully-equipped gyms with regular fitness programs, available at reduced membership rates to the Columbia community. 
Columbia also offers discount memberships at NYC gyms, and some health plans provide free or discounted fitness programs.
The Dodge Fitness Center provides Columbia students, faculty, staff, alumni and affiliates fitness opportunities and exercise space right on campus. Membership allows access to a variety of fitness options:
Access to tri-level fitness center, open 114 hours per week during the academic year and 90 hours during the summer
Access to eight-lane, 25-yard swimming pool
Access to our indoor running track
Access to open recreation hours in Levien and Blue Gymnasiums, as well as squash/racquetball courts
Free equipment checkout
Towel and locker service (additional fee may apply)
And personal trainers, classes, and group sport programs for additional fees
The Dodge Fitness Center is open 114 hours each week during the academic year, and as late as midnight from Sunday through Thursday to accommodate any schedule.  
Dodge Fitness Center 336
Morningside Campus
3030 Broadway Dodge, Mail Code 1900
New York, NY 10027
212-854-7149
CUIMC students, faculty, and staff are welcome to work out and play sports in the heart of the Medical Center campus at 50 Haven Ave. Athletic Center, Basement Levels 2 and 3. Membership covers facilities and equipment, including:
Locker rooms, restrooms, and sauna
Cardio room
Aerobics room
Free weight room
Strength training room
Pool
Basketball court
Squash court
 
50 Haven Athletic Center
Basement Levels 2 and 3
350 Haven Ave
New York, NY 10032
212-304-7010